The Chill Room, 2 February 2013 on killradio.org

160k, 100 minutes, guilt-free and mindless
We are already deep into the new year and we listen to contemporary music and then leap ten years back in time and find the world is darker and even more dangerous. Or maybe that's just our nostalgia.
Setlist (overlapping and incomplete): Bob Dylan-Tin Angel / Caroliner-Bring Culture to the Treetops (7") / Mouse on Mars-Ape / Nina Simone-Suzanne / Nurse With Wound-Brained (remix) / Jim O'Rourke-Happy Days / Runzilstern & Gurgelstock-Hypnogogia / Frank Dommert-Das Leben in Sulz / Velvet Underground-Sister Ray (Matrix 3 Dec 1969) through rest of show / Paul Bowles-The Sea and the Street / Tim Buckley-Hallucinations / William Burroughs-Twilight's Last Gleaming / L.Voag-The Way Out / The Clash-Hateful / Rolling Stones-We Love You / Beach Boys-Diamond Head / Jack Kerouac & Steve Allen-Tonight 1959
With special thanks to my listeners, to killradio.org and radio4all.net. Comments wearily requested. Don't neglect your genitals.

Anything I want he gives it, but not for free, It's hateful, and it's paid for and I'm so grateful to be nowhere.
The Chill Room, 19 January 2013, 00:00 PST, on killradio.org

160k, 94 minutes, psychology you can dance to
Everything is already waiting for you. This collage is built from layers of songs, texts, Freud, audio from other media, radio, Jung, live performance, music brut, noise, beats, Lacan, glitch, Baudrillard, and anything I can use to push onwards. It wants to BE the story, and my goal is "Further." The essence of sexuality and the voice of interior monologue rule. This one will not leave you alone, and yet is perfect company for a city night.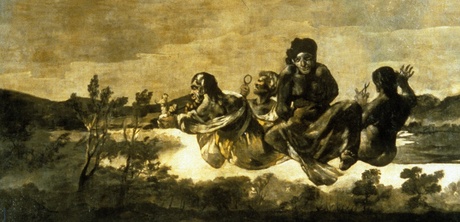 Ingredients for the collage include dialog excerpts from Oliver Stone's Natural Born Killers, two Kathy Acker texts (read by your dj) describing paintings by Francisco Goya, and Tom Snyder interviewing Charles Manson 1981.
Set list music: (overlapping and incomplete, which means some songs are not played all the way through and some are not listed): Tom Jones-Thunderball (live 1965) / Beequeen-Anne No Hi / Ussachevsky-Piece for Tape Recorder / Miles Davis-Spanish Key / The Shaggs-My Pal Foot Foot / Cowboy Junkies-Sweet Jane / Blue Oyster Cult-Cities on Flame with Rock'n'Roll / Prince-Feel You Up (demo) / satanicpornocultshop-Glow Worm / Olivier Messiaen-Oraison / Valley of Capsules-Black Sand Blue Sunshine / The Fates / The Carpenters-Rainy Days and Mondays (traktor mix) / 400 Blows-For Jackie M / Neneh Cherry & The Thing-Dream Baby Dream / Chaurasia-The Night and the Ocean / Bob Dylan-You Belong to Me / The Pugs-Tequila / Nurse With Wound-She and Me Fall Together Like Free Death / Paris Hilton-Turn It Up (varispeed turntable) / Duane Eddy-The Trembler / Stockhausen-Kurzwellen mit Beethoven / Witches Sabbath / The Beatles-Revolution 9 (wubmachine mix) / Peter Gabriel & Nusrat Fateh Ali Khan-Taboo / Throbbing Gristle-Hot on the Heels of Love / Nine Inch Nails-A Warm Place / Steppenwolf-Magic Carpet Ride / Stevie Wonder-Don't You Worry About a Thing / Mothers of Invention-Chrome Plated Megaphone of Destiny / COH + Cosey Fanny Tutti-6 / All the Tired Horses (anonymous remix from soundcloud) / Patsy Cline-You Belong to Me / Die Trip Computer Die-We Are Your Friends
With thanks to killradio.org, my listeners, wfmu.org, Hassan Jamal, Michael Schmitt, my teachers. Posted for educational and entertainment purposes. I own nothing. Comments eagerly hoped for. The image is Goya's The Fates from 1823.

I'll be standing on the side while you check it out.
The Chill Room, 17 December 2011, at 00:00PST on killradio.org
128k, 2 hours, milestones from the last year of Jim's life
Jim Morrison is still one of the most compelling figures who has ever been part of popular music. He never got old and therefore never seriously let us down, so the mysteries that remain still matter to many. I have gathered together most every existing recorded tape of The Doors and Jim Morrison from late August 1970 to Jim's death in Paris in July 1971 and combined them with a chronology of the events of Jim's Miami trial, his final shows with The Doors, the move to Paris, and the stories about his death. As a female voice in the crowd shouted after the Isle of Wight performance: "Bring back Jim Morrison!'
There is a lot of contradictory information out there (hey, Ray Manzarek himself said he thought Jim was still alive for twenty years!), and so some, maybe a lot, of what is done here is based on speculation. The "Jomo & The Smoothies" tape I play here because most people think that this tape is what they say it is, but one of the most reliable historical authorities I have found, named Porsche, presents pretty solid evidence that the tape was actually recorded in L.A. at the time of the Rock Is Dead recordings, and I think Porsche is correct. I have found a very detailed account of "Jim Morrison's Quiet Days in Paris" from The Doors Quarterly (http://home.arcor.de/doorsquarterlyonline/quietday.htm), and it states that Jim left for Paris on 11 March 1971 (rather than the 15 April date I use). Based on many interviews with Jim's friends and Doors people, it gives us a puzzling and sometimes mixed up vision of that period. However, this account claims that the Jomo tape is authentic, which raises questions of the author's accuracy, and then dismisses the Rock'n'Roll Circus story AND Pam's own account as "junkie tales" and "rumors," so I don't know how much credit to give it.
The Doors: Jim Morrison, vocals; Ray Manzarek, keys; Robbie Krieger, guitar; John Densmore, percussion.
Set list, all musical performances by The Doors unless otherwise noted: Interview with Jim outside Miami courthouse (12 August 1970) / Isle of Wight Festival: Roadhouse Blues-The End (soundboard 30 August 1970) / Dallas State Fair Music Hall: Love Her Madly-The Changeling-L.A. Woman-When the Music's Over (lo-fi audience tape, 11 December 1970) / Getting To Know TV from Australia: Crawling King Snake (mid-December 1970, broadcast 1 March 1971) / The Doors Workshop: Riders on the Storm (January 1971, 40th Anniversary Mix) / Jim and Pam recorded by Ben Fong-Torres (early February 1971) / The "Jomo & The Smoothies" tape: Orange County Suite (this tape was found in Paris after Jim's death and is dated traditionally June 1971 in Paris but more likely is from March 1969 in L.A. -- I have also edited the tape) / Sunset Studios, L.A.: Moonlight Drive (recorded 1967, 40th Anniversary Mix)
This one took several weeks to put together, so I give thanks to my live listeners for their patience and support. This program is presented for educational purposes. Thanks to killradio.org and to radio4all.net. Comments are most welcome.
Well, I took a little downer 'bout an hour ago / Took a look around, see which way the wind blow / Where the little girls in their Hollywood bungalows?
The Chill Room, 27 August 2011, at 00:00PST on killradio.org.
160k, 70 minutes, a challenge and a seduction
Was I ever in love? It felt like love. There were moments when -- Ah, but do I like to dance? Of course, and maybe a walk on the beach. But don't try to touch me, unless you want it all. Wait -- what was that about a secret show? There is something behind this?
Setlist (overlapping, incomplete): Glass blocks, amplified sand / Thomas Newman-Root Beer / Bill Withers-Harlem (Bim Marx TP Love Edit Mix) / Albert Ayler-Bells (from one sided vinyl) / John Oswald-Vane / Carly Simon-You're So Vain / Rema Rema-Feedback Song / Pierre Henry-Teen Tonic / Renaldo & Clara dialog and Gordon Lightfoot-Ballad in Plain D / Funkadelic-One Nation Under a Groove / Runzelstirn & Gurgelstock-Hypnogogia side two / Fripp & Eno-Evening Star / Merzbow & Genesis P-Orridge-All Beauty Is Our Enemy / Rema Rema-Rema Rema / The Shamettes-Hey There Big Bad Wolf / Cro Magnon-Caledonia / Led Zeppelin-Gallows Pole / Rolling Stones Shattered / Kronos Quartet-Marquee Moon / Throbbing Gristle-Hot on the Heels of Love (Ratcliffe Mix) / Fripp & Eno-Heavenly Music Corporation (No Pussyfooting at half speed) / The Ed Shepp Show-Psychedlics (wfmu.org) / Crispian St. Peters-Pied Piper / Basement Jaxx-On the Train / Kotyk-Final Cut
With grateful thanks to my listeners, to wfmu.org, to my teachers, and to killradio for being the best internet surprise there can be. Please think harder, and be safe.
The news show of science and reason!
What we have here is this week's Weekly News in Review from harpers.org (and the killradio news team).
This week in the midst of royal weddings and racist birther nonsense, a sigh of frustration at the pointlessness of it all.
I know that every generation has considered itself to be the last (or at least the NEXT to last) and I am not expecting the physical end of the world or anything, but the lack of critical judgment that I see around me, the lack of civility in our dealings with our fellow humans, the sheer stupidity of the entertainment we have dragging us down, the uselessness of religion and (really) of politics, makes this a most lonely and troubled time with no real exits available.
Of course we still have Art, but then we always did, and Art has never stopped things from being horrible.
So I offer the news in hope that you'll get some thought out of it.
If you listen to this news, consider sending me a comment by writing to chillroom@gmail.com.
The entire Bush Administration belongs in prison for their traitorous anti-Constitutional behavior.
is it time for a commercial yet?
The news show of science and reason!
What we have here is this week's Weekly News in Review from harpers.org (and the killradio news team).
While there is a brief commentary regarding entertainment, this weekly news pretty much sticks to the news.
Will you?
If you listen to this news, consider sending me a comment by writing to chillroom@gmail.com. I will answer them!
The entire Bush Administration belongs in prison for their traitorous anti-Constitutional behavior.
Enough or Too Much.
dozens of news and music shows from dj bennett