The Chill Room, 29 March 2013 at 10:00pm PST on killradio.org
192k, 130 minutes, an environmental trip with the Firesign Theatre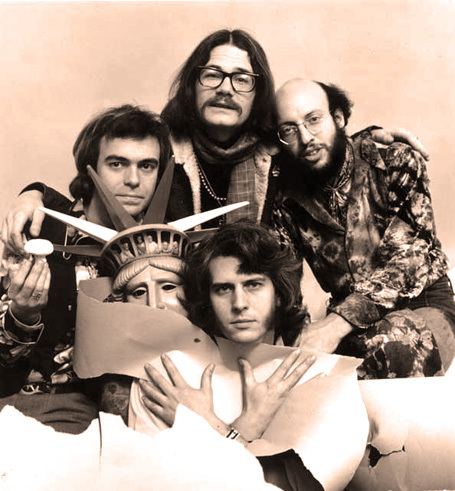 I admit up front that this is a very dense, verbal show. What the Firesign Theatre did with humor and imagination had a profound effect on my thinking and writing. What I wanted to do tonight was take what is a little known work by the group, their final Columbia lp, In the Next World You're on Your Own, and create a conceptual context for a lingering listen, using earlier materials to set the stage (and provide overlapping connections). That context is a form of psychedelia. But this trip goes beyond humor. It's social comment, American history, a future of Cops-like tv shows, insane game shows, a baseball game, the Academy Awards, and media terrorism. The phrase "Eat flaming death, fascist media pigs!" comes from here. Be part of the future, and listen closely.
Set list (overlapping and somewhat incomplete): Firesign Theatre (FST) recordings from 1968 to 1976, in collage. FST-Temporarily Humboldt County / Nurse With Wound-Echo Poeme Sequence No. 2 / Gil Melle-The Andromeda Strain / Led Zeppelin-D'yer Ma'ker / FST-Station Break (45 from 1969) / BBC Dreams Doc (Delia Derbyshire)-Seas / Patsy Cline-You Made Me Love You / Wax Tailor-Que Sera Sera / FST-Le Trente-Huit Cunegonde / Die Trip Computer Die-The Iron Dream / Camouflage Danse-Mad Love (excerpt) / Pink Floyd-Chapter 24 (mono mix) / David Essex-Rock On (7" at 33rpm) / Grindhouse-Zombie Attack (March 1985 performance at Pyramid Club NYC, written and directed by your dj) / FST-Ralph Spoilsport Yes I Will Yes / 4 Tops-Bernadette / Bill Withers-Use Me / Loo & Placido-Safari Love / ToTom-Make It in the Morning / FST-Police Street / SRC-In the Hall of the Mountain King / Van Dyke Parks-Come to the Sunshine / Traktor Carpenters / FST-We've Lost Our Big Kabloona
With special thanks to Greg Bishop, Mark Dolnick, Rich Garibaldi, the Firesign itself, my live listeners, and to killradio and radio4all.net. The Vietnam War has been over for 40 years tonight. Comments hoped for. It's terrific to hear you laugh. Photo (clockwise from top): David Ossman, Peter Bergman, Phil Austin, Philip Proctor.
Change returns success, going and coming without error. Action brings good fortune. Sunset, sunrise.
"It's fear of the unknown. The unknown is what it is. And to be frightened of it is what sends everybody scurrying around chasing dreams, illusions, wars, peace, love, hate, all that--it's all illusion. Unknown is what it is. Accept that it's unknown and it's plain sailing. Everything is unknown--then you're ahead of the game. That's what it is. Right?"- j lennon
Fun show. Check it out. New Arcade Fire, Magic Kids, Best Coast and a ton of other great tracks. Lame host today though. Hey, it h appens sometimes. Great clip of a Faux News presenter chatting w. the head of the Moral Majority. The End Times are here! Awesome.
Tell ur social network buddies (yeah i typed that) to tune into the show live and/or grab the podcast.
To get the cast right click "get mp3" (control + click for mac).
If you scroll down to the right you'll notice you can click on the potluck breakfast RSS Feed. DO THAT. This way, every time there is a new PLB, itunes will automagically download it for you.