DMR 05 02 13 playlist
Secret Chiefs 3 "The Three","The 4 (The Great Israqi Sun)"(show theme song) from the cd "Book of Horizons" (Web of Mimicry)
China: Kaitan Bo: 'Cymbals To Inaugurate The Altar' - Tianjin Buddhist Music Ensemble from the cd "Taste of Asia" (Nimbus Records)
The Bulgarian Voices 'Angelite' and Huun-Huur-Tu "Wave" from the cd "Fly, Fly My Sadness"
The Swords of Fatima "Into the Gobi Desert" from the cd "Monsoon and Sandstorms"
Gong Kebyar, Sebatu "Galan Kangin" "Gilak" vinyl lp "Gamelan Music from Bali" (Deutsche Grammophon)
Behzad from the cassette "Myth" (Touch)
Zak Riles "Sand/Silk Road Origian" from the cd "Zak Riles"
Ata Ebtekar, Sote "Synthetic Overture (Satan's Lullaby)" from the cd "Persian Electronic Music Yesterday and Today 1966-2006)
Master Musicians of Jajouka feat. Bachir Attar "Taksim" from the cd "produced by Talvin Singh"
Khyam Allami "Tawazon II: Or Lack of" from the cd "Resonance/Dissonance"
Gamelan Teges
live set and interview with Deleyaman (France/USA)
The Bulgarian Voices 'Angelite' and Huun-Huur-Tu "Fly Fly My Sadness"from the cd "Fly, Fly My Sadness"
Radio Sendiddy 3/30/13 8pm PST 128kbs Stereo
On this night DJ BoB-E is joined in the KiLLRadio Studio by long-time friend Thin Man (aka DJ Jermz), also known as L. Ron Jeremy, guitarist for Frankenstein. On this night both of us were headed to Club Violaine for the album release party of broadaylight's latest release "anniversaries: reuinions", and thought it would be fun to hang in the KiLLRadio studio and do a different kind of Send before heading out to the night's festivities. We kick things off with an intro Send, followed up with some intro talk. We then switch gears and get into a little music from Frankenstein, followed by an 80's flashback set. We get back into another one from Frankenstein, followed by a great phone call from the lovely Bunny Fontaine, and close out the show with 2 of her latest tracks. Tune into Radio Sendiddy LIVE every Saturday night from 8pm-12am PST on the world's most dangerous station, L.A.'s own www.killradio.org
SETLIST:

SEND 1 (INTRO):
DJ LimeGreen feat. AKM "Sex, Drugs, Murder"/ Apollo Brown & Guilty Simpson "Reputation"/ Pep Love "Fight Club"/ 7L & Esoteric feat. Reks & Apathy "Public Execution"/ The WhoDats "Suped Up"/ Bambu feat. Killer Mike "Upset The Setup"

SEND 2:
Frankenstein "Flesh Garage"/ Falco "Rock Me Amadeus"/ Depeche Mode "Stripped"/ Pat Benatar "Love Is A Battlefield"/ David Bowie "Modern Love"/ Billy Idol "Flesh For Fantasy"/ Joan Jett & The Blackhearts "I Love Rock N Roll"

SEND 2.5 (INTERLUDE):
Request for Daryl: Faith No More "Midlife Crisis"

SEND 3:
INXS "Mediate"/ Bananarama "Cruel Summer (Remix)"/ Duran Duran "Notorious"/ Blondie "Rapture"/ Billy Idol "Hot In The City"/ Dramarama "Anything, Anything (I'll Give You)"

SEND 4:
Frankenstein "Jesus With A Big V-8"/ Phone Interview with Bunny Fontaine/ Bunny Fontaine "Automaton"/ Bunny Fontaine "Fucked Up Fun"
Radio Sendiddy 6/23/12 8pm PST 128kbs Stereo
On this send DJ BoB-E and Mass Konfusion welcome West Coast hip hop legend Mellow Man Ace and his son Cazal Organism to the KiLLRadio studio. Together these 2 form the musical duo known as "The ZZYZZX". After Mass Konfusion kicks off the show with an intro mix and DJ BoB-E drops some tracks from a few guests that will soon appear on the show, we settle in with The ZZYZZX, along with producer Dibiase, and chop it up a little bit before Mass Konfusion hits us with a Mellow Man Ace tribute mix. We then go in depth with some talk, after which The ZZYZZX send an in-studio live performance, followed by a live beat set from Cazal Organism. We end the show with a listen to an exclusive, unreleased track from a forthcoming Mellow Man Ace album.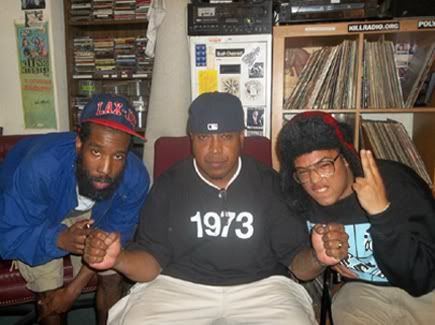 SETLIST:

SEND 1 (Mass Konfusion):
Apathy "Check To Check"/ Evidence feat. Defari "Don't Hate"/ Defari "No Doubt"/ Lootpack "Whenimondamic"/ Lootpack "B-Boy Theme"/ A Tribe Called Quest "Jazz (We've Got)"/ King Tee "Super Nigga"/ Ras Kass "Soul On Ice (Remix)"/ Method Man "Tical"/ 3rd Bass "Product Of My Environment"/ 9th Wonder and Buckshot feat. Keisha Shontelle "I Don't Know Why"/ 50 Cent "Crime Wave"/ Eric B & Rakim "Don't Sweat The Technique"/ DJ Premier & Bumpy Knuckles "D'Lah"/ Apathy "Peace Connecticut"/ Atmosphere "You"/ ZeekZilla "Reminisce"

SEND 2 (DJ BoB-E):
Percee P feat. Infinite & G Smooth "Skills Mastered"/ The (SIS)TEM "FROYO"/ The (SIS)TEM "Gimme That"/ DJ Lord Ron & Wildelux "Makes The World Go Round"/ El Da Sensei "Speakin'"/ DJ Honda feat. Mos Def "Travelin' Man"/ The Beatnuts "Look Around"

SEND 3 (Mass Konfusion Mellow Mix):
Mellow Man Ace "Freestyle On Pump It Up TV"/ Mellow Man Ace "Mr. Excuses"/ The ZZYZZX "The ZZYZZX"/ The ZZYZZX "Hypnotic"/ Mellow Man Ace "Good Flashes"/ "Freestyle: B Real & Mellow Man Ace"/ Mellow Man Ace feat. Medusa "Energy"/ Mellow Man Ace "God Builds"/ Mellow Man Ace "3rd Eye Vision"/ Mellow Man Ace "Rhyme Fighter"

SEND 4:
Live in studio performance by The ZZYZZX
LIve in studio beat set by Cazal Organism

SEND 5 (Closure):
Mellow Man Ace "Cali"
RADIO SENDIDDY 3/17/12 8PM PST 128kbs Stereo
The sending continues. The show kicks off with a few low-key tracks, then we get into a live in-studio performance from AllEyes Manifest and Dj Oomblah. Afterwards we talk with these guys a little bit, then Dj Oomblah sends a mix. For the next part of the show we spend some time with Kylo Rich and Purposeflo of Engineers In Your Ear. We chop it up with these guys while giving an in depth listen to some of their music. For the last segment of the show we catch up with Tucker Booth, fresh in from his recent performance in St Louis for the Chevy Music Showcase, and we listen to tracks from the latest LoCash Collective Mixtape "Go-Go's Secret Tracks". Tune into Radio Sendiddy LIVE every Saturday night from 8pm-11pm PST on L.A.'s own www.killradio.org
SETLIST:

THE KICKOFF:
Mr. Supreme feat. 3D "Any Last Words"/ Rakim "Flow Forever"/ Rapper Big Pooh feat. Torae "Are You Ready"

SEND 1:
In Studio Performance by AllEyes Manifest & DJ Oomblah
"Fast Hands"/ "Kinfolk"/ "Burgers In Paradise"/ Mystery Track

SEND 1.5:
DJ Oomblah Mix
Sun Thief "Storm-Piano Transmission"/ Aphex Twin "We Have Arrived"/ Burial "Kindred"/ Oneohtrix Point Never "Sleep Dealer"/ FaltyDL "Atlantis"/ Sepalcure "Love Pressure (FaltyDL remix)"/ Sepalcure "Breezin'"

SEND 2:
Music from Engineers In Your Ear

from the album "With This Mic In My Hand"
"!80 Degrees"/ "Mixed"/ "We Do Things"/ "Planet Earth"

from the album "Til the Clouds Run Dry"
"My Life" feat. J-Hoop, J-Dubb, Peanut, Menace/ "Underground"/ "Til The Clouds Run Dry" feat. Mac Lethal/ "Paint Brush"

from the album "Ain't No Sunshine"
"Front Row" feat. Type/ "180 Degrees"/ "Ain't No Sunshine" feat. Mauricio Whitford/ "Writers On The Storm"/ "Flowin With The Wind" feat. Shimon

SEND 3:
Music from The LoCash Collective Mixtape "Go-Go's Secret Tracks"
Stereo Assassin "Give The Wizard His Due"/ Silly J-Skills "I Could Be"/ Kashflow feat. Reprezent "Bang Bang"/ Lyfestile & Scrub "Work Hard Play Hard"/ Tucker Booth "Rezelection"

CLOSURE:
Kama of Earthworms & Jonathan Toth From Hoth feat. LoLo "Yes I'm Irish"
<<<128K STEREO>>>
091010
Reverend Dak returns from the Trade Show. Rev. Mook starts out the set explaining the theory behiand the hour of pain. Special guest Ms. Stephanie shows up at the studio. Rev. Dak plays a music set while we get our shit together. Extended troubleshooting rendered bad microphone cables. Rev. Dak talks about BURNING MAN. Riots in McAurther Park, pissed off people, pulling knives on cops. Tomatoes 911 collection at the Bike Oven, teresteral radio, Rev. Mook's T-Shirts, digging into the submitted music bin. More about Burning Man, Nazi hunter lawyer, recovering art artifacts, Ms.Stephanie plays a tune, the Rev. Mook takes over the tape decks wirh an awesome mix tape. The Random sound bite generator on our website. HTML skills, and writing code by hand. Web development in general. PVC pipe cars and babys at BURNING MAN. Having a gold fish as a pet, but you can't really pet them. Rev Dak's pet lizard, pet food Pets in General. Rev. Dak takes you to new musical places with a set with a COVER theme. We talk breifly, take some phone calls, the band Pavement, why were so lazy when we post our podcasts, more phone calls, Dub Step, Rev. Mook plays a few more tunes and we end up the show.