Radio Sendiddy 8/6/2011 8pm PST 128kbs Stereo
On this send DJ BoB-E is joined again in the Killradio studio by 2011 S.L.U.M. Fest Battle EMCEE Champion Tucker Booth, PR Director for The Frozen Food Section. We spend the evening serving up some hot Frozen Food Entrees from Tucker Booth, Serengeti, & Jonathan Toth From Hoth. Tucker throws down a dope freestyle when BoB-E hits him with a curveball, and we discuss multiple topics throughout the show.
SETLIST:
Intro: Star Wars Theme (Disco Mix)
Beatrock Music Set: Fatgums & Bambu "Strapped" (Fatgums Remix)/ Power Struggle "What Goes Up"/ Shining Sons "Beatrock Sweater"
From The "Men With Beards" LP, Tucker Booth:
"Nature Boy" feat. News/ "Paul Bunyan" feat. J-Toth
From "Hungry Man Dinners:
Tucker Booth feat Kelly "Rezelection"/ Tucker Booth feat. J-Toth "Bum-Rap"/ Tucker Booth "Patty Cake"/ Tucker Booth "TDB is Underated"
Mystik Journeyman "The Odyssey"/ Rakim "The Saga Begins"/ Reks "25th Hour"/ 7L & Esoteric feat. Celph Titled & Apathy "Demigodz Public Execution Remix
Theme From "Three's Company"
From The "Noodle-Arm Whimsy" LP, Serengeti:

"Mad Whimsy" feat DJ Crucial/ "Pilates"/ "Breakfast Of Champions" feat. Tucker Booth, Jake Rockwell, & J-Toth
Necro "I Need Drugs"
Freestyle Beard
Das EFX "They Want FX" (Remix)/ House Of Pain "Jump Around" (Remix)/ EPMD "So Watcha Sayin"
From "The Lovecycle" LP, Jonathan Toth From Hoth:

"Do U Wanna B My Grrlfriend?" feat. Christy Montana/ "Ghostwirl" feat. MF Doom/ "I 4Give U 4 The Truth" feat. Serengeti & Hi-Fidel
The Beastie Boys "High Plains Drifter"
From The "Sick Boys" LP, Jonathan Livingston Crucial (DJ Crucial & Jonathan Toth From Hoth):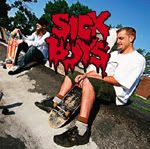 "Mama Got Herself A Little Sick Boy"/ "California" feat. Blaine Zapain/ "Trick Tips" feat. Tucker Booth, Kama, & Black Patrick/ "Member That"
KRS-One "Hip Hop vs. Rap"/ Sublime "KRS-One"
Underground Hip Hop
The New Math