The Chill Room, 7 December 2012, 10:00pm PST on killradio.org
128k, 2 hours, a devotion to the Velvet Underground
"Modern music begins with the Velvets, and the implications and influence of what they did seem to go on forever." - Lester Bangs, 1971
A survey and history of the Velvet Underground, chronologically arranged. Not really designed for beginners, this is a listen into the darkness AND the light.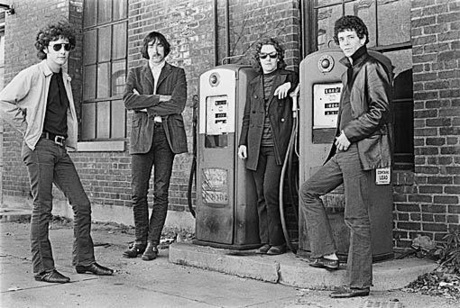 Setlist (all performances by the Velvet Underground):
1966: Venus in Furs_Cracking Up (Lou is reciting the lyrics while Sterling and John play) / The Evolution of a Riff: There She Goes Again (rehearsal with the trio and with Nico) / I'll Keep It with Mine (rehearsal with Nico) / Playing at the Dom and Recording / European Son (rehearsal) / Heroin (Scepter studio version) / I'm Waiting for the Man (Scepter studio version) / I'll Be Your Mirror (Scepter studio alternate mix)
1967: I Heard Her Call My Name (alternate mix)
1968: Beginning to See the Light (alternate mix)
1969: Sweet Jane / New Age / White Light White Heat (Matrix Club SF November 1969)
1970: Sweet Jane (original studio version) / Train Round the Bend_Oh! Sweet Nuthin (Second Fret Club in Philadelphia May 1970) / Oh! Sweet Nuthin (from Loaded)
Loaded sold even fewer copies than the first three albums, by the way.
Photo: Doug Yule, Sterling Morrison, Maureen Tucker, Lou Reed.
With thanks to Richie Unterberger, Mr Wilkinson, Clinton Heylin, my live listeners, killradio.org, wfmu.org, and radio4all.net. Comments welcome, please! If you know of any other Velvets tapes out there, tell me about them.
Further listening: Velvet Crush, a 2007 Chill Room on the Velvets, featuring the Cale era, and including the infamous Sweet Sister Ray from La Cave in April 1968, is available at http://www.radio4all.net/index.php/program/21222.
Ohhh sweet rock and roll, it'll cleanse your soul.
nssjnewsboo 10 31 12

Velcome to the haunted Castle!
Special Co Star Tucker ...Boo!!
Halloween Fun Show, all spooky songs,
costume ideas!

Bach - Toccata & Fugue in D Minor
The Hollywood Argyles - Alley Oop
Wonderful Winds - Grieg"s March of the Trolls, for Flute Sextet
Tom Waits - Murder in the Red Barn
Screaming Jay Hawkins - I Put a Spell On You,
Heart Attack and Vine
Ozzy Osbourne - Sympathy for the Devil
Shirley Bassey - Send in the Clowns
Sex Pistols - Bodies
Nick Cave - Stagger Lee,
Red Right Hand
Nine Inch Nails - Head Like a Hole
Ozzy - Shock the Monkey
Pirates of the Caribbean - A Pirate's Life for Me
Wendy O. Williams - Monkey Suit,
Butcher Baby,
A Pig is a Pig

Much fun and joking around thoughout, many topics,
many of them questionable!

Call on your cellphone!
55678, text in : Tucker
when you get the response,
text in : stop
Vote !!
Chevy Music Showcase!
nssjnewsinterview 10/24/12
With Tucker Booth!

Forgive the crappy sound! Technical difficulties
galore today, Tucker got on a better mike later in the show (37 min. in).
Snappy repartee, talk about a job interview I got (for a job I did not get),
New listeners, hi, Kristen!--Tucker is going to St. Louis, for a gig,
Last debate, "Behind the Veil" on You Tube, Mormons, www.ISideWith.com,
How to avoid repetitive Facebook Invites! - The Piasa Bird, from 1673??
http://www.altonhauntings.com/piasa.html , and other stuff.


Fred Lane - I Talk to my Haircut
Capt'n. Beefheart - Diddy Wah Diddy
Swift Family Robinzen - Chao Time,
U Can B a Kitty 2,
Ella Bella's Got a Binky
Rez-Election - TAB Is Underrated,
(sorry, the sound is bad, it got fixed)
He's On My Team,
Do The Whiteboy

She Knew She Was Falling In Love - David Johannsen
The BrianJonesTown Massacre -
Dropping Bombs on the White House
Donovan - The War Drags On, Universal Soldier
Stooges - Dirt
Fugazi - Do You Like Me, Birthday Pony,
Combination Lock
Lust For Life - Iggy Pop

www.tuckerbooth.bandcamp.com --15 free downloads until election day!!
www.grooveshark.com
www.killradio.org
www.radio4all.net
http://www.youtube.com/watch?v=Jazb24Q2s94

nssjnewshardyhar 10/10/12

My Shit's Fucked Up -- Warren Zevon
Black Betty -- Nick Cave

99 Problems (Explicit Political Remix) Original Upload -- You Tube
Old Paint -- Serengeti
Green Men -- by Abe Tha Babe

Get Loose -- Moonshine Bandits...goes on too long!
The Legendary Shack Shakers Hellwater -- You Tube
Soul Glow -- Mixtape --
www.datpiff.com/Tax-Free-MAPHIA-GBody-Supreme-mixtape.252645.html
(copy & paste that to your address bar)

Beer is Better Than Women -- Axel the Sot
Cyclavia DJ plays three songs at Grand Park stage

shoutouts!
discussing the wedding of Tucker's friends
Julian Venegas and Stacy Rae Turner-Venegas in St. Louis
Call, from Tivert H. from England!
Call from Randy S. from Colorado!

No Such Thing -- The Legendary Shack Shakers

ex-files.bandcamp.com ---fifteen free downloads!
thefrozenfoodsection.bandcamp.com -----fifteen more!
visit www.radio4all.net, upload site for more shows

NotSo Shy John News Show 9/25/12

nssjnewsautumn
...with special Co Host, Tucker Booth
This show is particularly good on headphones

Chatting about the people on the bus,
and the recent NFL Referee strike, comedy

P.C.-- John Kunich
We Eat Kittycats -- The Defectives
Giant Spiders -- Joe and Sharon Keefe
thanks Dr. Demento

Shane Witnesses A Mauling -- Tucker Booth

...a discussion including
The Church of the Flying Spaghetti Monster,
Pastsa-fairianism, teaching theology to children,
the importance of reading

251 Pancakes with Syrup -- Randy Stites :54

Circumcizing the Industry -- Space and Jonathan Toth
Born By The River
We Got That Good Good

Tax Free Maphia Presents Wall Street Mix Tape www.datpiff.com
Intro
Leather n Loud
Help You Feat. D-Win

Hypocrisy in the Genius Room (find it on You Tube)
Rob Getzschman
The Low Low Price
Break Out the Mashed Potatoes
Old Ass Man

Wrong Love
Nothin' In The World -- ShyJohn & Guitar Richie Jacobs

In Love Again,
Smile -- John Maxfield

SHOW CREDITS:
look this stuff up!!

Facebook: Mighty Good Road,
Isle five media
You Tube: John Maxfield Smile,
Hypocrisy in the Genuis Room channel
www.johnmaxfield.net ~ www.tantrumniche.com
www.datpiff.com (mixtapes)
www.thefrozenfoodsection.com
www.bandcamp.com
www.radio4all.com
free music!!
DENIALISM
Beyond Consensus is a debate/discussion program scheduled every Thursday evening at 6pm PST on killradio.org
Thursday 30 August 2012 at 6pm PST on killradio.org
This week host Nick Richert has asked killradio's own dj bennett (of the Weekly News in Review and The Chill Room) to present a topic of interest, and bennett has brought in kill's own Not So Shy John of (Not So Shy John news on Wed afternoons) to discuss and debate some ideas about DENIALISM.
Put simply, there's too much of it, and it's endangering the public. So settle in as we give definitions, discuss some history, and present cases of how denialism effects the world we're in.