Not So Shy John with Tucker Booth
nssjnewsoctob 10/17/12
Snappy Repartee, discussions of the political debate,
music begins at 10:30...

somehow we noticed that every one of the
"seven dirtiest words you can't say on radio/TV" came up,
.... Just sayin'.

Prejudice Tim Minchin You Tube
Sam Kinison - Detox This From Leader of the Banned CD
Squints - Pick up the Pieces You Tube

silly j skills - F-Words Sound Cluod
silly j skills - You Know

Clap Your Hands - J Toth and Heavyset, w/Helias
'86 = by Mathias and Heavyset w/DJ Innovaion
Both from the CD Underrated

DJ Earl-E - Calling You
DJ Earl-E - War Going On
Both from the CD Wax Onomotpoeia
(Welcome Aboard, Brother Earl--?)

Devil Woman - Lester Butler and the Red Devils
Live at the King King CD

Kanye West, by request, - The One
What Would Brian Boitano Do? - South Park kids
Peaches - Fuck the Pain Away
Serengeti - Family and Friends You Tube
Serengeti - Godammit
Rhyme Fix- DJ Earl-E ,with Freestyle Tucker

www.thefrozenfoodsection.com
www.bandcamp.com
www.soundcloud.com

www.killradio.org
www.radio4all.net
Part Two (49:40)

The reading from Chapter One,
Transparency is the Apocalypse

Adler Trio - Fire!

..except it kept stopping, so we went to Tucker's friend
Serengeti - Denehy, (just written up in Rolling Stone)
which is a very artistic, entertaining and well made video on You Tube, 200,000+ hits
also, - California

Phone conversation with Randy, in the mountains of Colorado,
just received the package of CD's from www.thefrozenfoodsection,com

shout outs!

Susan Sauter - Harmonica
with piano accompaniment ....wow

sequel to Tucker Booth for President, find
Rez-Election, find it @:
www.tuckerbooth.bandcamp.com
www.thefrozenfoodsection.com
The Two Towers featuring Antonio Scalia

Rez-Outro
this is a really deep song somehow,
I'm really happy to feature it.
it bears more then one listen...

some Tucker Booth freestyle
peace.

playlist for episode #21 of Truth is Bullshit 11/24/11
every Thursday 4-6pm PST on www.killradio.org

1. William S. Burroughs - a Thanksgiving Prayer

special episode on Vegetarian Artists:

2. the Smiths - Meat is Murder
3. Depeche Mode - Suffer Well
4. Bob Dylan - Hurricane
5. the Cure - a Strange Day
6. Dead Cinema - Ghost of a Chance
7. Billy Idol - Eyes Without a Face
8. Mitchell Brown - Keymar
9. Weird Al Yankovich - Fat
10. Virgines Vestales - We Mourn Those...
11. Leonard Cohen - Famous Blue Raincoat
12. Rudimentary Peni - Flesh Crucifix
13. Hanna Hirsch - Inget Overtag
14. Sinead O'Conner - House of the Rising Sun
15. Oneirothopter - Dreamscape #2
16. Red Roses - Now Look Who's Crazy
17. Cattle Decapitation - a Body Farm
18. Shark Egg Blues - Morning Light
19. George Harrison - My Sweet Lord (live)
20. loopool - Army of Meat
21. Morrissey & Siouxsie - Interlude
22. Boy George - the Crying Game
23. Fugazi - Break
24. Gitane Demone - Somewhere
25. Prince - Sister
Radio Sendiddy 8/6/2011 8pm PST 128kbs Stereo
On this send DJ BoB-E is joined again in the Killradio studio by 2011 S.L.U.M. Fest Battle EMCEE Champion Tucker Booth, PR Director for The Frozen Food Section. We spend the evening serving up some hot Frozen Food Entrees from Tucker Booth, Serengeti, & Jonathan Toth From Hoth. Tucker throws down a dope freestyle when BoB-E hits him with a curveball, and we discuss multiple topics throughout the show.
SETLIST:
Intro: Star Wars Theme (Disco Mix)
Beatrock Music Set: Fatgums & Bambu "Strapped" (Fatgums Remix)/ Power Struggle "What Goes Up"/ Shining Sons "Beatrock Sweater"
From The "Men With Beards" LP, Tucker Booth:
"Nature Boy" feat. News/ "Paul Bunyan" feat. J-Toth
From "Hungry Man Dinners:
Tucker Booth feat Kelly "Rezelection"/ Tucker Booth feat. J-Toth "Bum-Rap"/ Tucker Booth "Patty Cake"/ Tucker Booth "TDB is Underated"
Mystik Journeyman "The Odyssey"/ Rakim "The Saga Begins"/ Reks "25th Hour"/ 7L & Esoteric feat. Celph Titled & Apathy "Demigodz Public Execution Remix
Theme From "Three's Company"
From The "Noodle-Arm Whimsy" LP, Serengeti:

"Mad Whimsy" feat DJ Crucial/ "Pilates"/ "Breakfast Of Champions" feat. Tucker Booth, Jake Rockwell, & J-Toth
Necro "I Need Drugs"
Freestyle Beard
Das EFX "They Want FX" (Remix)/ House Of Pain "Jump Around" (Remix)/ EPMD "So Watcha Sayin"
From "The Lovecycle" LP, Jonathan Toth From Hoth:

"Do U Wanna B My Grrlfriend?" feat. Christy Montana/ "Ghostwirl" feat. MF Doom/ "I 4Give U 4 The Truth" feat. Serengeti & Hi-Fidel
The Beastie Boys "High Plains Drifter"
From The "Sick Boys" LP, Jonathan Livingston Crucial (DJ Crucial & Jonathan Toth From Hoth):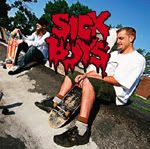 "Mama Got Herself A Little Sick Boy"/ "California" feat. Blaine Zapain/ "Trick Tips" feat. Tucker Booth, Kama, & Black Patrick/ "Member That"
KRS-One "Hip Hop vs. Rap"/ Sublime "KRS-One"
Underground Hip Hop
The New Math
The Chill Room, 7 May 2011 0100 PST on killradio.org
128k, 52 minutes, listening to the Beatles Get Back acetate played on FM in 1969

This is a replay of an aircheck recording made 22 September 1969 on WBCN-FM 104.1 Boston, dj Steve Sagal playing a tape of one of Glyn Johns' test acetates of the Get Back material recorded January 1969 in London at Twickenham Studio and at Apple Studios.




Imagine hearing this in 1969, the first time ever hearing most of these songs (Get Back and Don't Let Me Down, a hit 45 in the spring of 1969, were the only familiar songs, and the versions on the acetate were NOT the single versions). The sound quality is almost master tape, so not only do you hear these Beatle songs with fresh ears, you are also hearing the depth and warmth of analog FM recordings!




The only flaw is on the album itself -- Paul's Teddy Boy song is, admittedly, pretty dreadful (maybe YOU like it, but I don't), and it goes on about five minutes too long (even John jumps in and mocks it!). But using that track was definitely sticking to the premise of the album -- the Beatles warts and all.




So these are the songs from the Let It Be album, with no overdubs or adornments. You know the songs. Let It Be / Don't Bring Me Down / For You Blue / Get Back / The Walk / Get Back (different) / Teddy Boy / Two of Us / Dig a Pony / I've Got a Feeling / The Long and Winding Road. But these are not the singles or final mix album versions.





Presented for educational and entertainment purposes. With thanks to my listeners and to killradio.




This is a posting exclusively available on killradio.org.