Radio Sendiddy 6/23/12 8pm PST 128kbs Stereo
On this send DJ BoB-E and Mass Konfusion welcome West Coast hip hop legend Mellow Man Ace and his son Cazal Organism to the KiLLRadio studio. Together these 2 form the musical duo known as "The ZZYZZX". After Mass Konfusion kicks off the show with an intro mix and DJ BoB-E drops some tracks from a few guests that will soon appear on the show, we settle in with The ZZYZZX, along with producer Dibiase, and chop it up a little bit before Mass Konfusion hits us with a Mellow Man Ace tribute mix. We then go in depth with some talk, after which The ZZYZZX send an in-studio live performance, followed by a live beat set from Cazal Organism. We end the show with a listen to an exclusive, unreleased track from a forthcoming Mellow Man Ace album.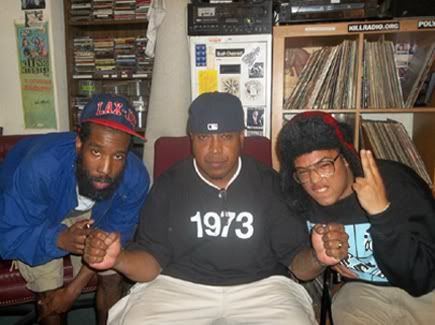 SETLIST:

SEND 1 (Mass Konfusion):
Apathy "Check To Check"/ Evidence feat. Defari "Don't Hate"/ Defari "No Doubt"/ Lootpack "Whenimondamic"/ Lootpack "B-Boy Theme"/ A Tribe Called Quest "Jazz (We've Got)"/ King Tee "Super Nigga"/ Ras Kass "Soul On Ice (Remix)"/ Method Man "Tical"/ 3rd Bass "Product Of My Environment"/ 9th Wonder and Buckshot feat. Keisha Shontelle "I Don't Know Why"/ 50 Cent "Crime Wave"/ Eric B & Rakim "Don't Sweat The Technique"/ DJ Premier & Bumpy Knuckles "D'Lah"/ Apathy "Peace Connecticut"/ Atmosphere "You"/ ZeekZilla "Reminisce"

SEND 2 (DJ BoB-E):
Percee P feat. Infinite & G Smooth "Skills Mastered"/ The (SIS)TEM "FROYO"/ The (SIS)TEM "Gimme That"/ DJ Lord Ron & Wildelux "Makes The World Go Round"/ El Da Sensei "Speakin'"/ DJ Honda feat. Mos Def "Travelin' Man"/ The Beatnuts "Look Around"

SEND 3 (Mass Konfusion Mellow Mix):
Mellow Man Ace "Freestyle On Pump It Up TV"/ Mellow Man Ace "Mr. Excuses"/ The ZZYZZX "The ZZYZZX"/ The ZZYZZX "Hypnotic"/ Mellow Man Ace "Good Flashes"/ "Freestyle: B Real & Mellow Man Ace"/ Mellow Man Ace feat. Medusa "Energy"/ Mellow Man Ace "God Builds"/ Mellow Man Ace "3rd Eye Vision"/ Mellow Man Ace "Rhyme Fighter"

SEND 4:
Live in studio performance by The ZZYZZX
LIve in studio beat set by Cazal Organism

SEND 5 (Closure):
Mellow Man Ace "Cali"