The Chill Room, 6 April 2012 0100 PST, on killradio.org
160k, 82 minutes, cinematic purgatory
In which I mash together four different horror movie soundtracks, two almost complete and two partial, letting oblique connections fire like synapses. Like standing in the middle of a bridge over an endless void, then lighting both ends on fire, pin point precision and superb music choice, pulsating into a resonating culture that even the most surface listener can enjoy. Is this show about the ascension or descension of man, or both?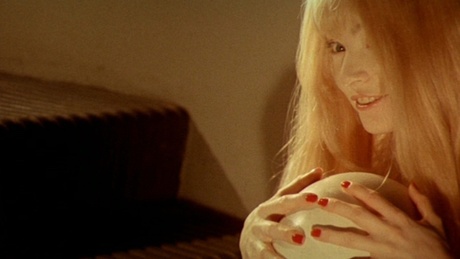 Set list (overlapping and incomplete):
Film soundtracks and dialogues:
Videodrome (Cronenberg 1982, with James Woods and Debbie Harry)
Toby Dammit (Fellini 1967, with Terence Stamp)
Scorpio Rising (Anger 1964)
Blue Velvet (Lynch 1987, with Dennis Hopper, Isabella Rossellini, Kyle McLachlan)
Music:
Ricky Nelson-Fools Rush In / Little Peggy March-Wind Up Doll / Twine-Asa Nisi Masa / Zoviet France-Moresco / Go Home Productions-Crazy Little Fool / Bobby Vinton-Blue Velvet / Bob and Bake-A Beatle Mash / Elvis Presley-Devil in Disguise / John Cage-Variations IV / Ray Charles-Ruby / Hafler Trio-That Which Preys, Emerging From The Dark / Ray Charles-Hit the Road, Jack / Martha and the Vandellas-Heatwave / The Crystals-He's A Rebel / Claudine Clark-Party Lights / Ken's Last Ever Radio Extravaganza-Beatles Chaos Fugue: Across the Universe / Kris Jensen-Torture / Merzbow-Another Crash for High Tide / Strawberry Fields Forever / Gene McDaniels-Point of No Return / Yesterday / Little Peggy March-I Will Follow Him / The Safaris-Wipeout / I'm Looking Through You / Roy Orbison-In Dreams / World Standard-The Lonely Driver / Nina Rota-Toby Dammit Theme
With thanks to Jason Berthume, my listeners, radio4all.net and killradio.org. Special thanks to Tim Lucas and Michael Weldon and to Ken's Last Ever Radio Extravaganza (http://lastever.org/). Comments requested.
I close my eyes, then I drift away into the magic night, I softly say a silent prayer like dreamers do, then I fall asleep to dream my dreams of you.
The news show of science and reason!
What we have here is this week's Weekly News in Review from harpers.org (and the killradio news team)
It's the last week of 2010 and politics is as ugly as ever.
A climate change denier is emailing me "self-destructing emails" which are made up of lies about climate change (why would they self-destruct if they were true?). As predicted by climate change science, we are experiencing undeniable weather extremes (no snow at all in Canada in February during the Winter Olympics with a true snowcropalypse on our East Coast this December), while 40% of the ice sheets over the Arctic have vanished with loss of much animal life, a full 2 degree Fahrenheit rise in water temperature there, and in the U.S. major forests, which should be drawing in carbon dioxide are, because of insect infestation, instead PRODUCING more CO2 than it is drawing out. And it is getting worse, folks -- yet the deniers (Republicans, neocons, morons, and assholes) think that because it's cold in winter that means there's no climate change. Deniers are idiots.
Turn off Fox News, they hate the truth.
The entire Bush Administration belongs in prison for their traitorous anti-Constitutional behavior.
If you do listen to this news, will you drop me an email to chillroom@gmail.com? I doubt I'll ever hear from anyone, certainly haven't heard from anyone yet, but who knows when I could be surprised?
No commercials. Plenty to think about. Be prepared to think.
where the weekly news comes from