Shaman
The Chill Room, 5 May 2012 at 00:00 PST on killradio.org
128k, 130 minutes, decoding and recoding reality with Carlos Castaneda
I admit to admiring Castaneda, even though I know his Ph.D. in Anthropology was in fact fraudulent and even though he appears to have been a manipulative guru type. His sorceror's concepts of stopping the world and seeing beyond consensus reality are still valuable to me and have informed the art I have made, the art that has meant the most to me, and the way I perceive the world.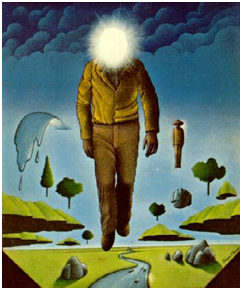 This Chill Room collage uses Castaneda's own words and concepts to present a dense and moving soundscape for you to negotiate -- as a warrior. It is demanding, but it is also full of controlled folly that will provide a sort of slap back echo on what a "sham man" means in our kaleidoscopically runaway mad world of today. Have fun.
The Chill Room is a collage and contains overlapping audio, including readings by your dj of the lessons of Don Juan from the first three books by Carlos Castaneda, along with two narrative excerpts from Peter Coyote reading The Teachings of Don Juan. Radio interview with Carlos Castaneda broadcast on KPFA Jan 30, 1969 (edited). Several prepared mini collages were also used herein.
Set list: Text 1 The Sorceror's Description / Gavin Bryars-Titanic (runs under first hour) / Electronics from Tony (collage) / Tindersticks-Frozen / The Doors-My Wild Love / Merzbow and Kappote Muziek-Continuum / Emiliana Torrini-White Rabbit / Suzanne Ciani-Lixiviation / unknown-undetachable feeling / stAllio-bust a Groove / Dennis Oppenheim-Broken Records Blues / Peter Coyote reading from The Teachings of Don Juan (2 excerpts) / Creedence Clearwater Revival-Ramble Tamble / Text 2 But Nothing Matters / Pink Floyd-Lucifer Sam (Traktor mix) / Brothomstates-Qtio / The Glove-Like an Animal / Randy Grief-The Rift in the Earth / Kraftwerk-Von Himmel Hoch / The Doors-Shaman's Blues / Carlos Castaneda on Don Juan / Rollins Band-Liar / That's wrong . . . This is right (collage) / The Who-See Me, Feel Me (7" varispeed turntable) / Castle of Quiet-Rise William Rise / Frizzi & Tucci-Theme from Zombie OST / Squarepusher-Dark Steering / Lou Christie-Two Faces Have I (acapella) / Barbara Harris-It Don't Worry Me (Nashville) / The Books-Be Good to Them Always / Don Ellis-Star Children / Alice Cooper-Levity Ball / Strings of Consciousness-Sleepwalker / Text 3 The Warrior's Way
With special thanks to my listeners, to Michael, Noel, Thomas, to Jeremy Bate and Greg Bishop, to the Bodhi Tree, to Tim Lucas, to Jack Bush. Correction: Due to a misreading of the date, I refer to the KPFA Castaneda interview taking place in 1967, when it was in fact from early 1969. My mistake! The first book (The Teachings of Don Juan: A Yaqui Way of Knowledge) was published in 1968. The second book (A Separate Reality) was published in 1971, and the third (Journey to Ixtlan) in 1972. The interview (with Theodore Roszak, though most of the questions have been edited out) took place before the second book was published. Comments about this program are requested!
The whole world's a savior, who could ever ask for more?
over 115 Chill Rooms available
blog comments powered by disqus

Disqus