Luis Blanco is my guest for the March 26, 2012 edition of the radio show. I play a mix of music including new things from ELOS and Anenon and old favorites by Beck, Beastie Boys, DJ Shadow before doing an interview with Luis. In the interview we talk about his Smut + Bass label, the Miami electronic music scene, Eleven Eleven Agency, along with some less serious topics. He then plays a mix of music from artists connected to the label and agency as well as some favorites.

Thanks to Luis for being my guest on the show and to all who tuned in live or through the podcast. The support is very much appreciated. Stream and download the episode below.
RADIO SENDIDDY 3/24/12 8PM PST 128kbs Stereo
Radio Sendiddy is one year strong now, and DJ BoB-E spends the first part of this show with co-host Tucker Booth, sending some love back to some of the great artists who have been showing love over the past few months. For the next part of the show Mass Konfusion gets in the mix and takes us on a nice ride. We're then joined in the studio by underground legend Aceyalone, coming through the KillRadio studio for the first time. We sit down with this Los Angeles veteran for a little talk, Mass Konfusion sends an Aceyalone mix, then Aceyalone sends an in studio performance of the classic "Mic Check", done over a Mike-P remix. Aceyalone also tells us about his latest album that's gonna drop soon, "Leanin' On Slick", a follow up to 2009's "The Lonely Ones". "Leanin' On Slick", produced by Bionik (who also produced "The Lonely Ones") is part 2 in a dedication to the funk, soul, and doo wop influences that have inspired Aceyalone throughout his incredible journey. Listen to Radio Sendiddy LIVE every Saturday night from 8pm-11pm PST on L.A.'s own www.killradio.org
SETLIST:

SEND 1:
Otayo Dubb "Say Like I Say"/ Otayo Dubb "Dippin' Slow"/ Azma feat. Planet Asia, Phil The Agony, DJ Limegreen "Let Me Show You"/ Azma feat. Curtiss King, Copywrite "Output"/ Tash "The Book Ch. 1"/ Tash "Closer"/ Tash "New Bikini"/ Speak Easy "Cougar"/ Speak Easy "Rat Pack"/ Engineers In Your Ear feat Menace "Mixed"/ Engineers In Your Ear feat Peanut, J-Hoop "We Do Things"/ Engineers In Your Ear "180 Degrees"/ Soul King "Teach The Truth"/ Soul King feat Born Allah "Money Over Being Broke"/ AWAR "Vansleazy Industries"/ AWAR "My Story"/ Rebels To The Grain "Classic Sensation"/ Rebels To The Grain "Vinyl (let the record spin)"/ Spliff Hemingway "Buddha Heads"

SEND 2 (Mass Konfusion In The Mix):
Saigon "Saigon Meets Just Blaze"/ Saigon "The Invitation"/ Madlib & MF Doom "Accordian"/ DJ Muggs, GZA, Raekwon, RZA & Sendog "Advance Pawns"/ Beanie Sigel "All For It"/ Warren G "And Ya Don't Stop"/ Apache "Incredible Bongo Band"/ The Grouch "Artsy"/ DJ Jazzy Jeff & The Fresh Prince "As We Go"/ Murs & 9th Wonder feat. 9thmatic "Asian Girl"/ KMD "Who Me?"/ KMD "Gas Face Refill"/ Kool Keith "Supa Supreme"/ M.O.P. "Cold As Ice"/ MC Lyte "Stop, Look, Listen"/ MC Ren "Right Up My Alley"/ Aceyalone "I Think"

SEND 3:
Interview and Music With Aceyalone:
"Rappers Rappers Rappers"/ "Hardship"/ "Project Blowed"/ "Universal Soldier"/ "Let Me Hear Summ" feat. Casual & Big Arch

Leaks from Aceyalone's new album "Leanin' On Slick" (The Lonely Ones Part 2):
"Leanin' On Slick"/ "Watcha Gonna Do Wit That"/ "Past The Hint"/ "I'm No Casanova"

Acid Reign feat. Aceyalone, Abstract Rude, Myka 9, Rifleman, Gajah, Nga Fish, Olmeca "Creme de la Blowed"
The Chill Room, 23 March 2012, at 11:00pm PST on killradio.org
128k, 77 minutes, deep listening to the Temptations, 1964-1972
The first Motown (Tamla) music to win a Grammy, the Temptations' story is epic and continues from the 50s to today. Tonight I play through the major singles of the hit period and concentrate on the Psychedelic Soul days of Norman Whitfield. Hearing all this terrific music at once is a learning curve of social growth, and it packs a mighty melodic and harmonic wallop.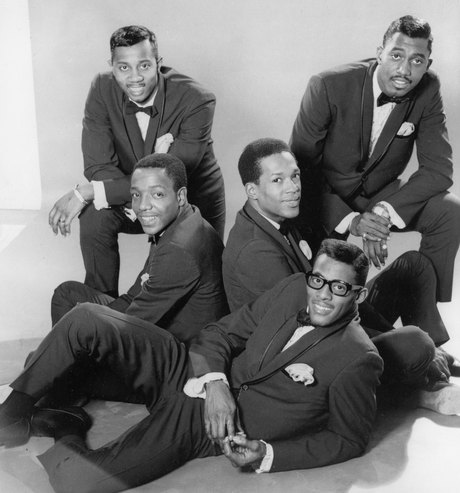 Set list: All music by The Temptations. Take A Stroll Thru Your Mind (pro-marijuana album track from Psychedelic Shack) / The Way You Do the Things You Do / My Girl / Ain't Too Proud to Beg / (I Know) I'm Losing You / You're My Everything / I Wish It Would Rain / I'm Gonna Make You Love Me (with Diana Ross and the Supremes) / Cloud Nine / Runaway Child, Running Wild / I Can't Get Next to You / Psychedelic Shack (album version) / Ball of Confusion / Just My Imagination / Papa Was a Rolling Stone (album version)
The photo shows (back row) Melvin Franklin, Otis Williams, (middle row) Paul Williams, Eddie Kendricks, (front) David Ruffin, the mid-60s classic 5 Temptations.
The closer you come to personal reality, a wider larger audience is touched. With thanks to my listeners, Randy Haynes, WIRL radio in Peoria, the Midwest and central Illinois for giving me the space to open up, to killradio and radio4all.net. Comments requested.
Music so high you can't get over it, so love you can't get under it.
"I always mean what I say, but I don't always say what I'm thinking." -Dean Smith

I should be more like Dean. twitter: @ptlckbrkfst like on the FB. live on weds 8am-11amPST on www.killradio.org fun times. Yodel on. This show SCREAMS Spring so download it, pop it on ur phone or ipod or whatever, crank it in the car. Trust me.
I Wanna Be Your Dog - Iggy Pop
Shotgun - Southern Culture on the Skids;
Earthmover, Love A Rama
America, Fuck Ya
No Such Thing - Th' Legendary Shack Shakers;
Iron Lung Oompah
I'm So Ronery
Flying Saucer - Brave Combo
I Don't Want to Grow Up - Tom Waits;
Goin Out West
Montage
Conversation with Randy of the Mountains
Bring It Down - Foreskin 500;
Retun of Sugarpop, Supefamily
Earth Died Screaming - Tom Waits;
Murder in the Red Barn
Tortured - Kim Wilson;
Hand to Mouth, Save it for Someone Who Cares
So Low Down - Lester Butler and Lucky 13
No. No. No - Die Zorros;
Black Sabbath
Dust My Broom (the most original!) - Howlin Wolf
How I Could Just Kill a Man - Rage ATM;
Wake Up
23 March 2012
This week: confusion. Why are we here? What is significant? What is a muskie? Coping mechanisms tested as we searched for answers. Through pop music.
Playlist:
Amy Winehouse: Addicted
Fake: Brick
Rational Youth: Le Meilleur des Mondes
Saori@destiny: Shangri-La
2ne1: I A m the Best
X-Cross: Padam Padam
Justine: E.E.U.U.R.S.S.
Can: Vitamin C
John Carpenter: Christine (Part 2)
Shadowboys: Waiting for Tomorrow
The Chills: Pink Frost
Arthur Russell: Get Around to It
Janelle Monáe: Locked Inside
Enya: Deireadh An Tuath (Dntel remix)
Victoire Scott: 4ème Dimension
Luke Abbott: Soft Attacks
Harry Nilsson: What'll I Do
Yellow Magic Orchestra: Cue
Strawberry Switchblade: Go Away
Opéra de Nuit: Ami-Amant
Ryuichi Sakamoto: The Left Bank
Laurie Spiegel: Old Wave
Okay Temiz: Denizalti Ruzgarlan
David Bowie: Golden Years
Yo La Tengo: Needle of Death
Stevie Wonder: You've Got It Bad Girl
Aleksej Višnâ: Rasčëska
Traditional: Radio Hill
St. Vincent: Black Rainbow
Nocturnal Emissions: Don't Believe It's Over
Nat'l Bag broadcasts live every Friday from 10am to noon (Pacific)